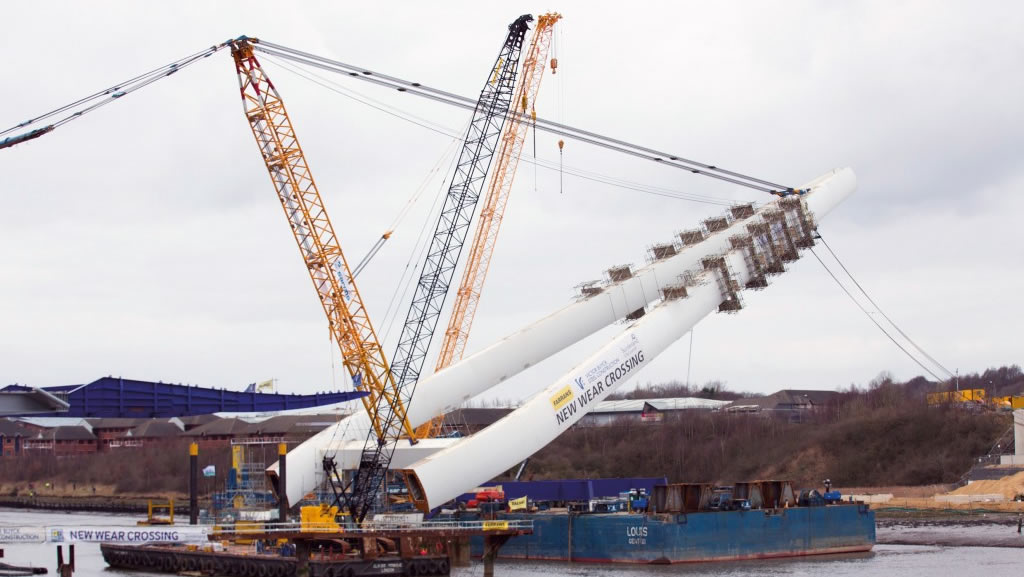 Brushing Up The Claude Monique
Jarrow-based Wescott Industrial Services has played its part in Sunderland's new Northern Spire bridge project by carrying out maintenance work on one of the key vessels used during construction.
The company prepared and re-painted the barge, Claude Monique, owned by contractor Farrans Construction – part of CHR plc – which was located in the River Wear for more than two years, providing a platform for the team to work from, and the piling rig to operate from.
Originally constructed in the 1960's, 45m-long Claude Monique weighs some 514 tonnes and is equipped with two 20m hydraulic spud legs and four remote-operated anchor positioning winches, which enables the vessel to keep perfectly on station during lifting and piling operations.
The barge is based on large ballast tanks, which were blasted clear and then re-coated by a team from Wescott Industrial Services during a five-week contract that has maintained the barge up to full specification.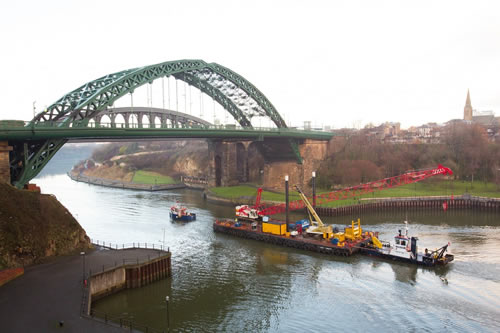 Tom Whittleton, Wescott's Business Development Director, commented: "Although the majority of our work is now on offshore wind farms, commercial buildings and transport infrastructure, we are very experienced in marine projects and have been working in a number of dockyards and fabrication yards around the country on military ships, commercial vessels, barges and submarines.
"The Claude Monique project was, therefore, a fairly typical project for our marine division, except it was obviously far closer to home than most projects. All our personnel are fully trained and Train the Painter certified and very aware of environmental concerns when grit-blasting and spray-painting, so as to ensure that all work areas are fully encapsulated to contain any grit and keep surfaces clean prior to spraying.
"We had to coordinate with the barge team to ensure safe and efficient working was achieved, but completed our work on schedule and look forward to completing the remaining tanks early next year in the second phase of the project."
Ryan Dillon, a Section Engineer for Farrans Construction, who managed the project for the on-site team, said: "The Claude Monique is a key company vessel, and the work completed by the Wescott team is vital in prolonging its lifespan and maintaining such a valuable asset. Westcott Industrial Services provided an excellent service and we look forward to working with them again."
The Northern Spire is the first bridge to be built across the River Wear in Sunderland for 40 years. Work began in May 2015 and the bridge is on track to be complete during the spring of this year.
Wescott Industrial Services also supplied the rope access team that cleaned and painted the very top of the bridge's distinctive 'A' frame for the main steel contractor, Victor Buyck, of Belgium.
Established in 2010, Wescott Industrial Services work primarily in the Offshore, Marine, Transport Infrastructure and Industrial Facilities sectors, enjoying an annual turnover of over £5m and employing some 50 full-time managerial, supervisory and multi-discipline operatives with the ability to employ temporary onsite crews employed for specific projects to suit requirements. The company has its own training subsidiary at Jarrow, providing rope access and safety training and, as of 31 December 2017, the company has enjoyed working over 850,000 hours LTI free.