Renewables Sector Experience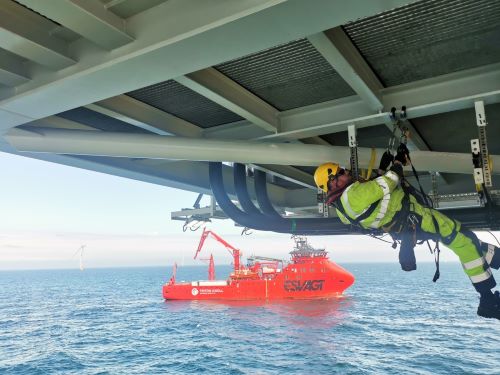 We have substantial experience in successfully and safely operating in the onshore and offshore renewable sector for over 10 years. Our hugely experienced management team have a wealth of knowledge and experience that has provided significant cost savings, efficiencies and safety benefits on 35 renewable projects delivered to date.
We are leaders in offering innovative solutions to complex problems and have a long history of providing smart solutions which save time and money for our clients.
We specilaise in all types of onshore and offshore maintenance and asset integrity services, including:
Surface Preparation & Industrial Coatings
Helideck, Walkways and None Skid Deck Remediation
Access Scaffolding & Containment
IRATA Rope Access
Passive Fire Protection
Alternative Access Systems
Coatings, MPI & NDT Inspections
Blade Repair
Appointed Persons, Rigging, Welding and Mechanical Services
Our key highlights in this sector are:
Largest project to date - £5.7m
Cost savings achieved for clients to date - £4.5m
Projects completed - 35
Revenue achieved - £22m+
We specialise in all aspects of the windfarms operational life and can provide services at all stages from:
Fabrication & Construction
Hook Up & Commissioning
Warranty Repairs
Annual & General Maintenance
Statutory Inspections & Surveys
Repair Campaigns