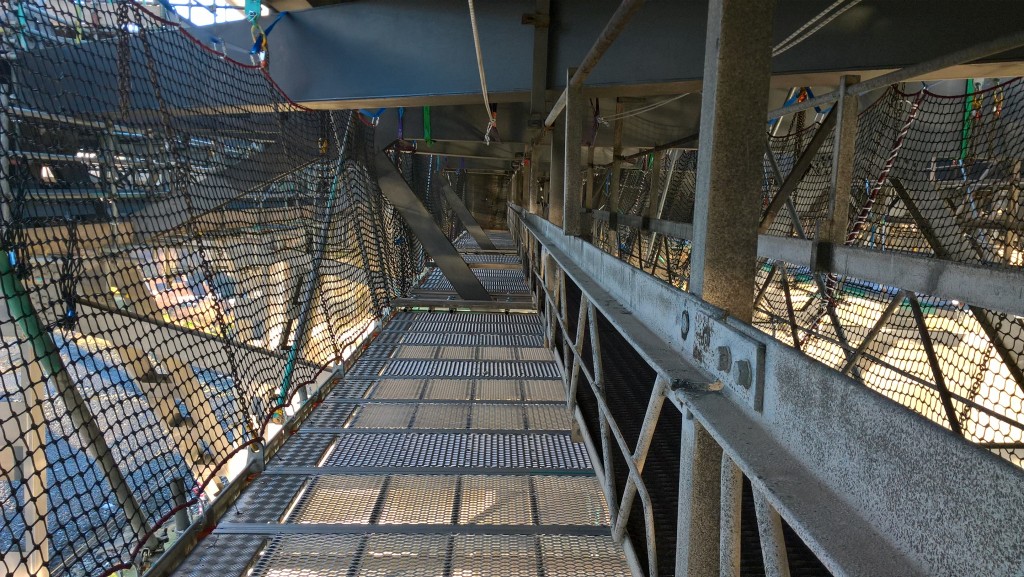 Wescott Invest in Innovation
Mark Duffy, Managing Director of Wescott Industrial Services, explained the company's philosophy, "The coatings industry has changed as the value of asset integrity management is realised and what was once seen as an additional option, is now considered as a vital requirement. In the Offshore market, for example, we not only have new wind turbines to protect but also aged oil and gas facilities, some of which are well past their original life span as more efficient oil and gas recovery methods have been developed."
"Onshore, our skills in rope access and expertise in coatings are in demand in every sector from retail and leisure structures to industrial facilities. But we have only reached this level of activity by continually offering our clients new and often state-of-the-art technologies which bring greater efficiencies, cost savings, environmental benefits or increased productivity and this gives us our edge over our competitors."
For preparing steel structures for coatings, Wescott now offer their customers the EcoQuip Vapor Abrasive Blast Equipment system which carries the abrasive media suspended in a fine mist rather than dry, slurry and traditional water-based blast methods. The blast, produced by flow dynamic technology which optimises the air, water and media ratio, is as powerful as dry methods but with around 90% less dust whilst the mist quickly evaporates, leaving no pools or toxic run-off. Not only is there far less impact on the environment, but, with less blast media required, the technology quickly brings savings.
Mark continued, "It's a fantastic system which is not only far more environmentally friendly than traditional blasting, but also increases our operatives' productivity. We used two of these units on a transformer platform in the German sector of the North Sea with fantastic results and immediately ordered four more!"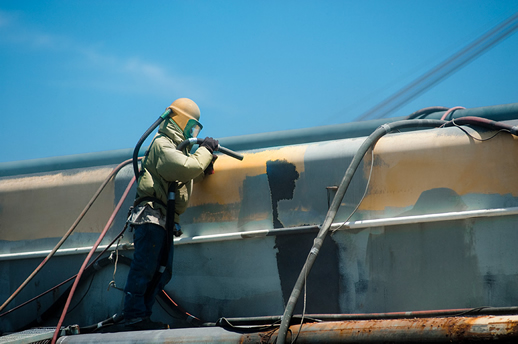 EcoQuip blasting in operation
When it comes to access, Wescott's expertise in rope access is now enhanced by their investment in the innovative V-Deck suspended platforms, designed specifically for access under offshore platforms, bridges, piers and other industrial structures which replaces the more traditional tensioned netting.
Mark explained, "It's very quick to install, very safe and whilst we've tried alternative suspended access systems, the V-Deck is the best we've come across and is now our standard method of access where large areas require treatment."
Innovation in actual coatings is ongoing with the days of 'red lead' primer and multiple coats manually applied long gone. The coatings Wescott now use as standard include Mascoat, specifically developed to prevent corrosion under insulation (CUI). This engineered insulating coating not only reduces conductive heat transfer, thereby saving energy costs, but reduces the need for additional insulation, under which corrosion can rapidly occur. The long life coating lasts longer than traditional insulation and reduces future maintenance costs.
Belzona is another innovative coating now used extensively by Wescott, particularly to repair and prevent future leading edge erosion of wind turbine blades where the abrasive effect of rain, dust, icing, hail, insects, birds and lightning striking tips which can be travelling at over 150mph can be devastating. The same corrosion resistant system can also be used to form peelable protection for pipeline flanges, a traditional weak point in all pipeline protection.
Mark Duffy concluded, "Whilst the various technologies are not unique in themselves, we've made a conscious decision to offer our customers the very best and state-of-the-art equipment, whether this be blasting, access or coatings. Our investment is now reaping rewards in the we're responding to enquiries and tendering for jobs which we simply couldn't have considered a few years ago. We're also expanding overseas and hope to announce the first contracts for our Middle Eastern operation very soon, all of which makes it an exciting time at Wescott!"
Established in 2010, Wescott Industrial Services work primarily in the Offshore, Transport Infrastructure and Industrial Facilities sectors, enjoying an annual turnover of over £5m and employing some 50 full time managerial, supervisory and multi discipline operatives with the ability to employ temporary onsite crews employed for specific projects to suit requirements. As of 31 December 2017 the company has enjoyed working over 850,000 hours LTI free. The company has their own training subsidiary at Jarrow providing rope access and safety training.